T-shirts are one of the most common clothing items in the world. And for clothing brands, it's a canvas with endless opportunities. It's amazing how much people have done with this deceptively simple item. However, that also poses a major problem for brands. How do you settle on the perfect type of T-shirt?
You can't set a number for the Types of T Shirts that exist. Fashion enthusiasts are constantly experimenting and coming up with new variations. Since human creativity is endless, so are T-shirt types. People define them based on neck, sleeves, fabrics, sewing construction, etc.
If you are looking to launch your T-shirt brand, exploring the various types of items is mandatory. It will help you choose the most relevant one for your brand.
Understanding The Various Types of T Shirts
The Types of T Shirts are endless and can be pretty confusing. However, you can only order with your manufacturer if you specify the type of T-shirt you will sell. So, the more intelligent your approach is to understand the major categories under which the different types of T-shirts fall.
Men's T-shirts
The standard T-shirt is a versatile clothing item. Both men and women can wear it and look good. However, some T-shirts are exclusive to men. If you are launching a T-shirt targetting men, these are some of the options you can work with:
Polo T-shirt: Designed exclusively for men, these T-shirts feature a collar and button placket. A Polo T-shirt can be worn on both formal and casual occasions. Plus, they are easily adaptable to all kinds of climates.
Henley T-shirts: These shirts don't have a pronounced collar like polo shirts. Instead, they have a round neckline. Henley shirts also have a button placket. This is a piece that blends cosiness with style. You can wear it single or under another garment.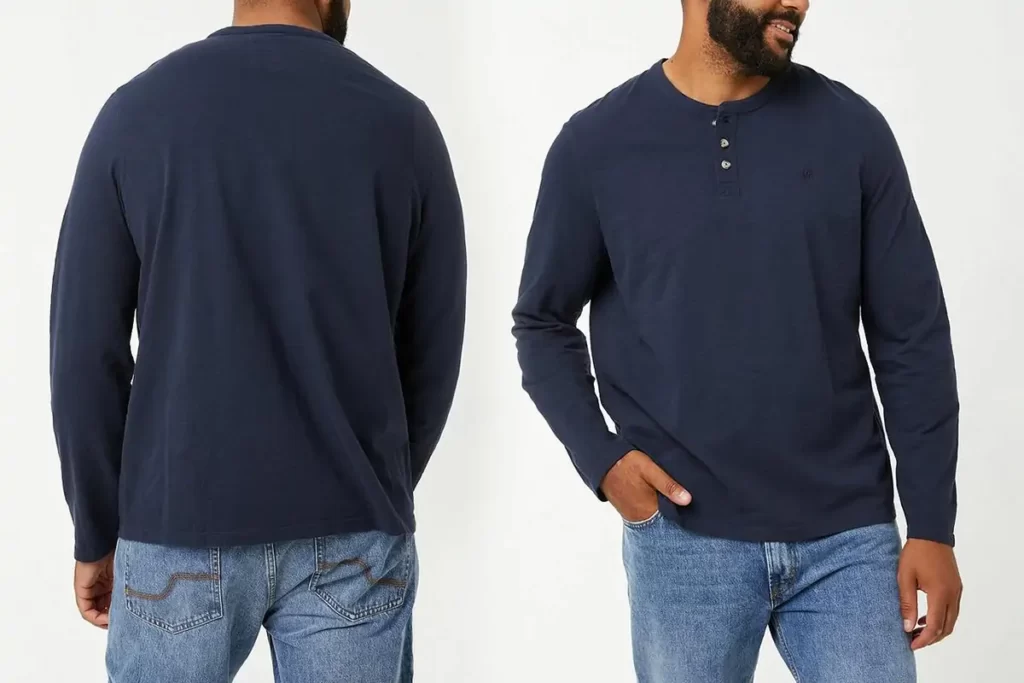 V-necks: These T-shirts feature a V-shaped neckline which shows off the wearer's upper region. Men with broader chests and thicker necks can look more powerful and attractive in these shirts.
Graphic T-shirts: These are the popular T-shirts that sport a logo, slogan, face of superstars, or similar designs. People wear them to express their support or favour towards an idea, a person, or their favourite athlete. They make great streetwear and are an excellent way to spread your message.
Tank Top: One of the men's most popular and widely worn clothing items is the classic Tank Top. It is a sleeveless T-shirt with wide shoulder straps and a low neckline. Excellent for comfort, manual labour, and showing off manly muscular arms.
Women's T-shirts
While men's T-shirts focus on making the wearer look big, muscular, and masculine, Women's T-shirts aim for a petite, elegant, and feminine appearance. Here are some of the options you can explore if you are launching a women's clothing brand:
Crop Tops: They are shorter than average-length T-shirts. The shorter or cropped design helps to expose the mid-section of the body appealingly. They are a trending item, and women wear them to beaches or during athletic activity. Crop Tops are a type of clothing that is both functional and fashionable.
Peplum T-shirt: These T-shirts have some extra fabric at the hem to create a more flared and feminine look. It helps to show a more toned waistline with voluminous hips.
Off-shoulder T-shirts: Being exclusively feminine T-shirts, they have a wide neckline to expose the shoulders. These t-shirts can either show off one shoulder or both. It's a preferred clothing item for romantic occasions or parties.
Based on the Printing Method
T-shirts are canvases. There is no better way to wear a statement, idea, or artwork than a T-shirt. Manufacturers have experimented with various printing methods to bring these designs to life. Based on that, there are several types of T Shirts available:
Graffiti printing: The printing method involves a spray gun and stencil to cast paint on the T-shirt and create street graffiti-style art. The results are artistic graffiti T-shirts with vivid, colourful designs. Depending on the paint material, these T-shirts might require special care while washing.
Tie-dye T-shirts: Tie-dyeing is a hand-printing method. The artist ties various fabric parts with a string and immerses them in a dye bath. The paint leaves out these tied portions and thus creates uniquely beautiful patterns. Tie-dye T-shirts are famous for their trippy psychedelic appearance.
Screen-Printing: This is the most suitable printing method for filling up bulk orders. Usually, screen-printed T-shirts work with fewer colours and simpler designs. The artist uses a mesh screen and stencil to cast the ink, and can work at a fast speed. Also, the ink on Screen-printed T-Shirts has the best durability.
Heat Transfer: In this method, the T-shirt artist will use heat and pressure to transfer a design from film to the fabric. Vinyl Printing, direct-to-film, and dye-sublimation are some of the subtypes of this method. Heat transfer T-shirts can be great when you are filling smaller orders and working with more colours.
Embroidery: These types of t-shirts are printed using the good old needle-and-thread. The artist stitches a design onto the fabric. This is great for creating logos or small details.
Based On Fabric
Material or the type of fabric is one of the most important factors in categorizing T-shirts. The Fabric type instantly tells you and the customer how comfortable and stretchable the T-shirt will be. The fabric also gives you an idea about the durability of the T-shirt. Some of the most common types of T-shirts according to fabrics are:
100% Cotton: These T-shirts are made of pure cotton fibres. These soft and natural T-shirts are comfortable and widely popular. They are suitable for warm climates. One of the drawbacks is that they easily wrinkle after washing.
Cotton-polyester: The T-shirts are a mix of cotton and polyester fibres. Cotton-polyester blend T-shirts have excellent durability and don't wrinkle easily. However, they may feel less breathable than pure cotton T-shirts.
100% polyester: These are T-shirts made up of polyester fibres. They readily remove sweat from your body and quickly dry up. Plus, they are also lightweight. This makes polyester T-shirts a popular choice among athletes.
Cotton spandex: The T-shirts are a blend of cotton and spandex fibres. This fabric type makes the T-shirts stretchy and elastic. But they are less durable than the other fabrics. The softness and elasticity make the shirts great for yoga and maternity fit.
Based on Size and Fit
T-shirts can be made to fit someone in different ways. It depends on the purpose of the T-shirt. For instance, a regular-fit T-shirt is suitable for wearing to public places when you are going for a walk. Meanwhile, an oversized T-shirt is better for wearing at home. Here are some of the types according to size and fit-
Standard Fit: These T-shirts are tight enough and tight enough. Their design makes them perfect for all occasions. A standard T-shirt fits well in the chest and waist without overemphasizing the wearer's physique.
Slim Fit: If someone is trying to show off the great results they have achieved through gym and diet, these T-shirts are perfect. The waist is tapered, and the sleeves are tiger and smaller. Keep in mind that there are better options than Slim Fit when you are looking for optimum comfort.
Oversized T-shirts: These are great for wearing at home. People also wear them during grocery shopping. They have quite the opposite purpose of slim fits. Instead of showing off, you are trying to hide your physique when you are wearing an oversized T-shirt. These are one of the most comfortable options for pregnant women.
3 Things To Consider When Launching A T-shirt
You now have a general idea of the types of T-shirts available. It's time to create the perfect one for your brand. Sure you can pick a few types from the above and start a clothing line. But if your ambition is to build a long-lasting brand, you have to create a T-shirt (or collection of T-shirts) that makes a serious impact. Here's what you should consider.
What's Trending
If you are a clothing brand, you are targeting a particular age group. Most brands target the 18-35 age group. However, your brand might be especially focused on teenagers, men over 45, or middle-aged moms. Before you launch your T-shirt, try to find out what is trending among your target audience.
Various keyword research and social media analytics tools can help you. Find out which topics (movies, art, politics, quotes, memes, anything) are drawing the most of their attention. Pick such a trending idea and design your T-shirt around it.
Communicate Your Brand
There are so many T-shirts and brands. Why would people remember yours? Well, maybe because you could communicate your brand most effectively to them through that T-shirt. A brand is an idea. It has a message, mood, and mission. Your T-shirts style and design should be relevant to this.
For instance, you can pick bright, exaggerated colours if your brand's vibe is fun, craze, and youth. Your T-shirts can have cartoonish pictures, quotes, and fonts on them. Meanwhile, if your vibe is more serious and sophisticated, go for darker colours and elegant fonts or graphics.
Fabric and Printing
There are various options regarding T-shirt fabrics and printing. When choosing, you should consider costs, time, comfort, durability, and design. Regular cotton is one of the average T-shirt's most affordable and comfortable choices. But you can choose the expensive Pima cotton if you are launching a high-end collection.
Similarly, screen printing is an affordable option to print T-shirts in bulk. However, you cannot create detailed artwork or fill small orders with screen printing.
In that case, you have to choose a direct-to-garment method. Make sure to use paints that are durable and retain their brightness after multiple washes. Acrylic paint can be an excellent choice in this case.
Build A T-Shirt Brand With MGOO Fashion
Once you decide to launch a T-shirt, you will quickly find out how overwhelmingly complicated it can get.
As a brand owner, your job is to discover the audience and trends and come up with the idea for the T-shirt. But bringing that to life is an entirely manual process- of which you may need more experience and resources.
In this case, your best strategy is to team up with a trustworthy and affordable clothing manufacturer. MGOO Fashion can be the perfect option for clothing T-shirt startups. We have all the necessary resources and expertise to oversee your entire business process from start to finish. Here's why you might consider us-
Help With Product Development
Are you having difficulty coming up with a design? Well, you can choose from our huge library of ready-made designs. Our designs are based on popular trends and preferences.
You can also customize a design you choose from our database by incorporating your brand's logo or an image you want. And if you are looking to develop a new and unique design and style of T-shirt, our team of experts can assist with that.
There is a vivid collection of over 100+ fabrics you can choose from. MGOO also offers more than thirty different printing methods. Pick one that suits your targets. Once you choose, get an instant quote to help with further planning.
Sample Before Bulk Producing
No matter how much you plan and visualize a T-shirt on your computer screen, you don't know how it will actually look and feel before you get your hands on the real thing.
However, most brand owners can only get a hold of the T-shirts once they are bulk produced. And there's nothing left to do if the product is not according to their expectation.
MGOO can help you overcome this problem. Once you decide on the T-shirt, our workers can create a sample for you within 5-10 days. We will check it for quality and send it to you for review. If it's okay, we can go into bulk production. Or, you can make the adjustments, and we will work on the next sample.
Shipping, Photography, and After-sales Service
You can choose from one of MGOO's excellent shipping plans to get the T-shirts to their destinations according to your preference. Our courier shipping takes as little as 3-5 days. Meanwhile, the sea route can take 25-40 days. We also give you tracking information for your shipment.
Also, you need stunning photos to market your T-shirt. We offer model, product, and scenic photography. Product photography will only cost you 30$. This is quite affordable compared to what most professionals charge.
Our relationship and support continue even after the sale closes. We refund your money if you experience any discrepancies with the product within 30 days of delivery. Plus, our helpful customer service is online 24/7.
Conclusion
There are an overwhelming number of Types of T Shirts and it can be quite the hassle for a new startup to settle on one. So, the sooner your start working with a team of experts, like the one at MGOO, the better for your upcoming T-shirt launch. Get in touch with us today.